Q&A
Ilana Savdie talks to Christopher Y. Lew, Chief Artistic Director, Horizon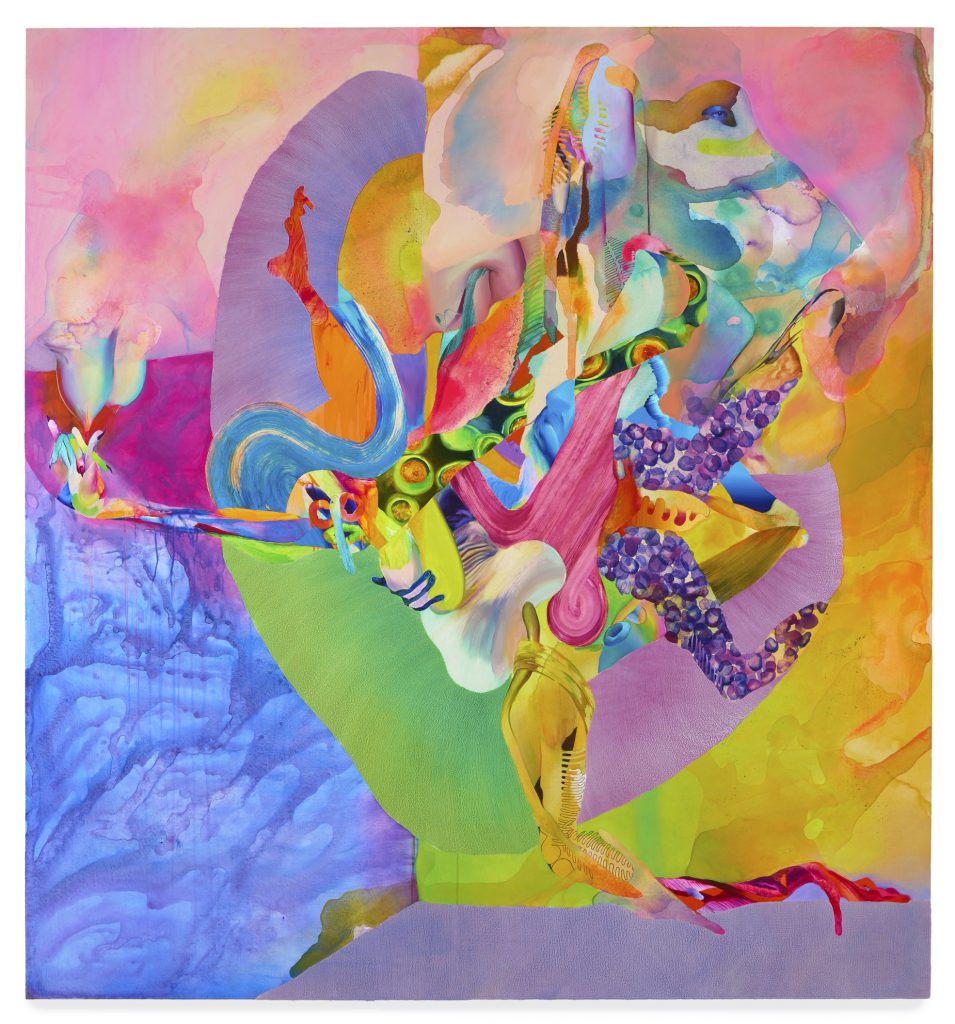 Christopher Y. Lew
In your paintings, elongated figures appear to emerge from or combine with landscape and abstraction. Can you talk about the sense of change and flux that pervades your work?
Ilana Savdie
I always go back to the idea that one's own gods can be fashioned from one's entrails, that divinity can be reached through a kind of abjection, and I tend to think through figuration through those possibilities. Everything in the work is referential to the body, landscapes follow the same general rules of bones and meat and flesh without the hierarchy of scale. I'm thinking through what it means to have a relationship to landscapes only through memory, through folklore and through one's own body and the carnage that happens when all of these disembodied fragments are valued equally and repositioned into something new.
Christopher
You are known for using a bright and saturated color palette. How did you develop your choice of color?
Ilana
I like to work from an instinctive place with color, so this palette was developed by really trusting that the incongruous color decisions I was drawn to had meaning. I'm attracted to colors that feel saccharine and seductive because in excess they feel sinister, a way of bringing forth the uncanny through a sense of seduction and repulsion.
I really lean into the moments that feel like a condition and locality are unplaceable, so I'll pull from collaged sources that alter any sense of continuity with light and color shifts.
Christopher
Do you see painting—and making art in general—as an act of resistance? I am thinking specifically about your interest in the Marimonda figure from Colombian Carnival which you have referenced and is historically a figure that mocks the ruling class.
Ilana
To take up space with unapologetic abundance in any capacity feels like a form of resistance, especially for those of us that were raised to make ourselves as small as possible, to "fit". I think that's part of what draws me to the themes of the carnival in general, aside from my personal experience with it; it's also the sort of audacity of it all. Carnivals are also often addressing dark histories in bright colors and exuberant performances, usually accessing forms of protest through mockery and mockery through grotesque exaggerations of the body. I'm very drawn to the spirit of trickery there and I think there is great potentiality in painting for that.
Christopher
You've consistently included drawings in your recent solo shows. Is there a relationship between your works on paper and painting?
Ilana
The works on paper are part of the alphabet that build the language of these larger works. I usually start from sketches that gravitate towards the representational and often figurative. I'll move onto works on paper that then serve as a space of translation, where I can explore mark making and resolve form. I know the moment where the strength and pitch of the colors shift form in the larger work so it feels important to have these monochromatic works where line and mark dominate sitting alongside them.
Christopher
Do you have plans for what you will do during your residency?
Ilana
I'll be starting closer to the end of the year so I'm still working that out but I will say I absolutely plan to make use of that fantastic space.